Google declared its most advanced algorithm update lately, and nevertheless, it's a big one. The search engine giant Google had named this update as the June 2019 Core Update. Here's what we know so far, and what you can do to prepare.
Google updates creep in like a thief and surprises everyone. All SEO specialists are aware of the long history of Google algorithm updates and here is the list of those updates:
June 2019 Core Update
March 2019 Core Update
August 2018 Core Update aka Medic Update
April 2018 Core Update
March 2018 Core Update
December 2017 Core Update
Google Local August 2017 Hawk Update
Google Fred Update – unconfirmed March 2017 update
Google Local September 2016 Possum Update
Google RankBrain Algorithm
Google Mobile-Friendly Algorithm
January 2018 Core Update
Google Hummingbird
Google Mobile-Friendly Update
Google Panda Update
Google Penguin Update
Google Pigeon Update
Google Payday Update
Google Pirate Update
Google EMD (Exact Match Domain) Update
Google Top Heavy Update
Usually, they come without warning and have certainly been substantial, and Google updates their algorithm every single day, to be precise, multiple times per day. Having said this – on June 2, Google tweeted on its Twitter account warning of the upcoming update and the report stated:
"Tomorrow, we are releasing a broad core algorithm update, as we do several times per year. It is called the June 2019 Core Update. Our guidance about such updates remains as we've covered before."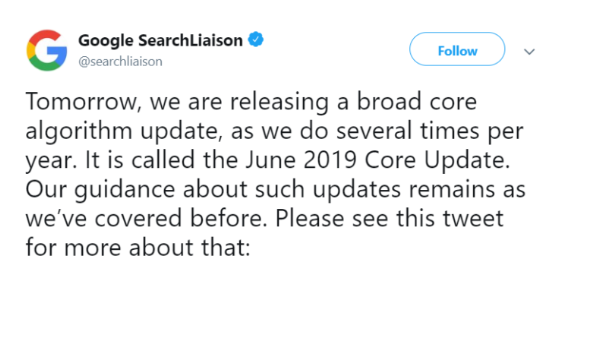 The list of updates shown above does make a strong statement that Google updates certainly aren't new. Not many of us would realize the previous one happened last March, and Google looks forward to releasing many such broad core updates per year. What makes it more interesting in this update is the fact that the update came announced in advance.
According to Search Engine Land and Google's Danny Sullivan, the open approach shouldn't be interpreted that there's anything noticeably more significant or unique about this one. It is just that Google wanted to be proactive and give people advanced notice to eliminate any ensuing confusion. However, many SEO experts hypothesized that this one came with a recent warning because it was going to be big.
In his initial tweet, Google's Danny Sullivan (and the guy behind the Google SearchLiaison Twitter handle) admitted that this update would be "definitely noticeable."  Also, since beginning its official rollout, that certainly seems to be the case.
Moreover, ever since launching its official rollout, that certainly seems to be the case. With official confirmation from Google on June 3 around 10 AM, the update went live.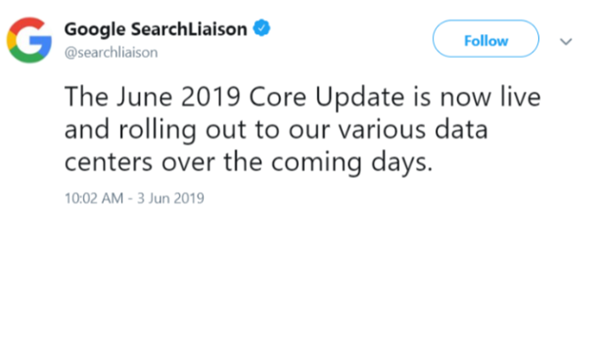 Reports from various sources confirm that the update's made some significant waves. Search Engine Land reports as to new data from Sistrix, SearchMetrics, RankRanger, and Moz suggests there have been some noticeable fluctuations in the rankings.
Sistrex reported in the Google UK Index a change from 05.06. On 06.06.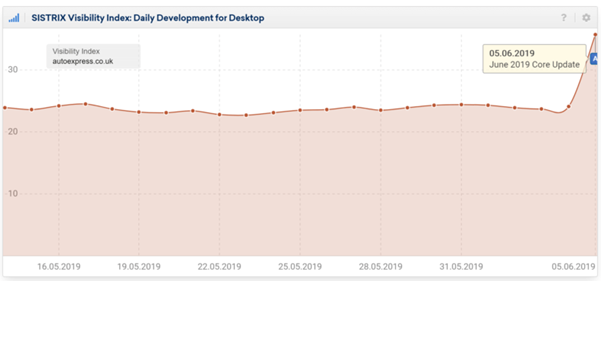 Image courtesy – Sistrix, the June 2019 Core Update & fluctuations in the Google UK index.
The report stated that in comparison to the previous updates, the affected websites numbers seem to be more extensive. The impact was felt more on YMYL sites, and it appears to have widened the net to news sites, retail sites, etc.
RankRanger provides these numbers on the US search results side – notably, it is the health and finances industries seemed to be hit the hardest.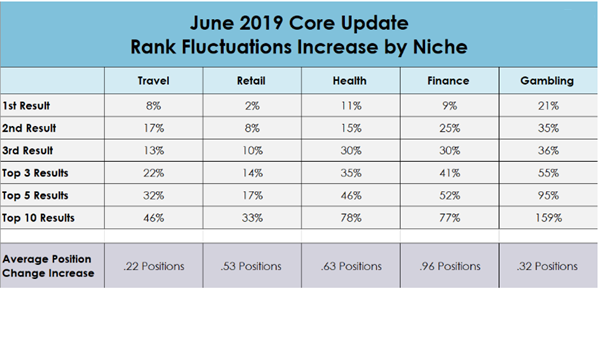 Image courtesy of RankRanger – Rank fluctuations from the Google June 2019 Core Update.
Amazingly, SearchMetrics expert Marcus Tober summarized that Google appeared to have modified some elements of the core update that rolled out in March. Dr. Pete Myers from Moz and Marcus Tober told that a few major medical sites that missed distinguished rankings in the earlier update seemed to have recovered their visibility.
It also seems that sites earlier hit by Google's Medic update in August 2018 have been affected repeatedly this time around. A few have seen their rankings fall even further, while others describe meaningful improvements in their rankings.
The SEO community is undoubtedly sensing the latest from Google, with Tweets and comments rolling in about both lost rankings and recoveries. As of now, rankings remain in flux.
SERoundtable prepared a list of the SEO community comments, explaining the effects the update has had thus far. Here's an example: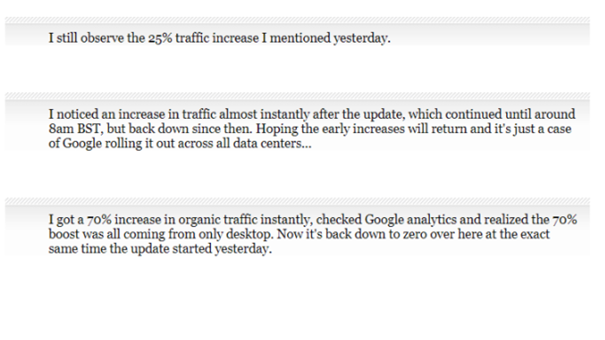 As a matter of fact, the update has just begun to roll out. It has not finished yet; more fluctuations are anticipated throughout the week.
Google is also expected to showcase more diverse search results.
In combination with Google's June 2019 Core Update, it also declared that it would be updating its search results to show more diverse offerings. Therefore, more varied means from more domains. The announcement also came through Twitter, with the update officially launching on June 6, 2019.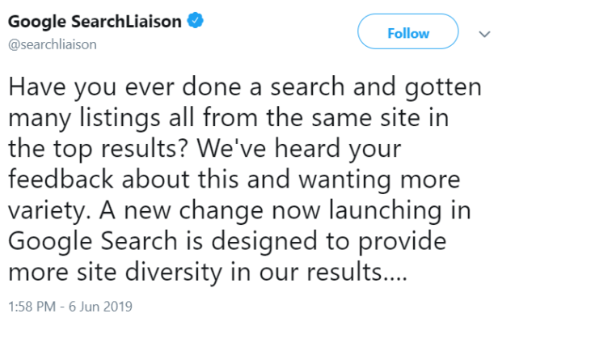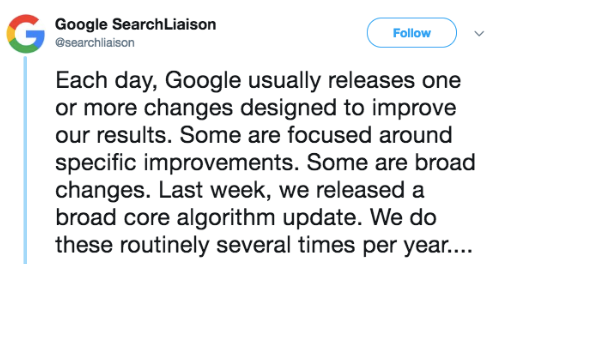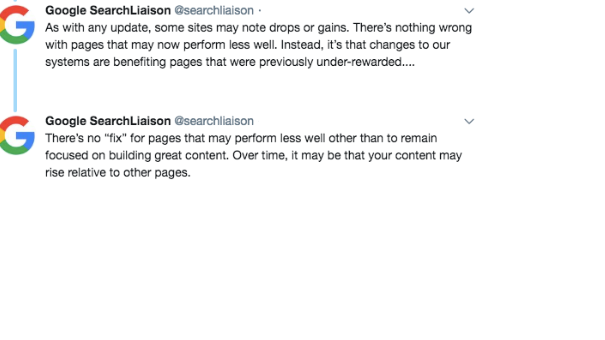 Google is now showing more than two results from the same domain in the top results for a search.
What is great about the change? Since a few webistes manage to monopolize the search results for specific searches. This update will strive to balance everything and modify the options of search results on the first page.
Google does state that it when appropriate, it reserves the right to show more than two results from a domain if it happens to fit the query best. Please stay informed, that this update will not affect SERP features such as the Knowledge Graph or Image Carousel, only the main search results.
While this will affect how some pages rank, Google claims that it should not have a large effect on the overall search rankings.
The Broad Core Update – What is expected out of it?
Firstly, let us understand that Google's June 2019 Core Update is classified as the broad core update.
As said previously, these broad core updates are bound to happen many times a year. Therefore, it is essential to recognize the difference between more targeted updates such as the Penguin or Panda updates, which aim at specific behavior and tend to have significant effects on the search rankings.
On the other hand, a broad core update is a bit more of a puzzle — for example, the Panda update, precisely targeted sites with low-quality content. Furthermore, the Penguin update went after websites employing black hat link building. The sole reason behind running these updates are to finding sites that go astray and to penalize them.  The Google June 2019 Core Update which is identified as the broad core update a general clean up. While that commonly suggests a bit less variation in the rankings, it also means we don't know exactly what factors are affecting the sites and causing any dips in rankings.
What to Do If A Site is affected due to Google June 2019 Core Update:
Nothing can be done to fix a site that drops due to a broad core update. Google, as a policy, will not issue any details or actionable advice as it doesn't want the website owners to try to improve or modify things that aren't issues. Not all the website owners welcome this approach as it is very frustrating. The dip in the rankings is irreversible, and there is no guidance from Google on how to reverse the issue. While Google remains chiefly unhelpful about updates such as its June 3, 2019, Core Update, it Tweeted out this piece of advice: focus on "offering the best content you can. That's what our algorithms seek to reward."
Quality Rater Guidelines
Do you know what makes content great in Google's eyes?
Refer to Google's Quality Rater Guidelines for the most accurate information.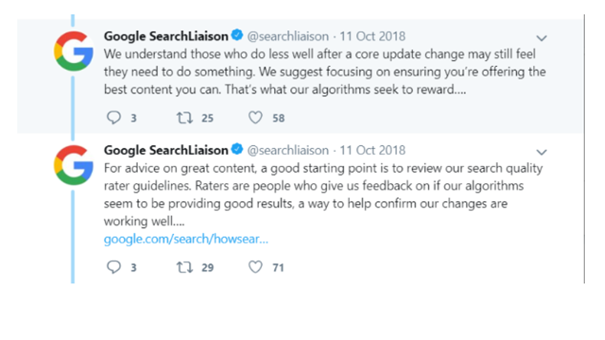 Quality Raters are contracted by Google to review and rate websites based on a set of guidelines (about 200 pages of them). Currently, Google contracts with 10,000+ Quality Raters.
It's critical to perceive that Raters have no impact on how a page ranks and the information is not factored into the overall Google algorithm. Rather, a Rater performs a search and assesses the quality of the top pages the search returns.
Afterward, Google makes use of all the inputs to update its algorithm going forward. Even though the guidelines are long, there are a few key areas that marketers can direct on to increase their website's performance.
Follow Content Best Practices – June 3, 2019, Core Update
When it melts down to it, the most reliable way to assure the web rankings are ironclad is by following the rules as strictly as possible. When it is content concerning, then it means E.A.T., providing high-quality, long-form content, and providing it consistently. On the other hand, the content needs to be matching the intent of the searcher.
The most dependable way to understand a search intends to do in-depth keyword research. Find the related and longtail keywords.
It is essential to be sure whether the searcher is looking for information on a product or are they looking for somewhere to buy. By providing the data for each kind of search, which means you need to provide varied content that caters to different searches and is optimized for different keywords.
The Searchers are using words such as "what is.", "top 10..," and "examples," while the ones looking to buy are using words like "affordable, "where to buy," or "most affordable."
Creating Google-proof content, the other key factors to keep in mind:
Always verify the need of the page – this one goes back to the purpose of the page. It's most helpful to assign each page to one topic and make it very clear what that topic is.
Link to other well-established sites – providing trusted resources will increase the trustworthiness of the content.
Build a high-quality site – fill it up with quality content, avoid redirects, broken links or images. Such things offer a poor user experience, website visitors wouldn't care to come back, and that wouldn't do any favors in Google's eyes.
Provide valuable advice – Become a thought leader and trusted authority in the particular domain by providing real solutions and insights.
What Demand Monster can do for the – June 3, 2019, Core Update hit
 Website?
Demand Monster is a leading Digital Marketing agency offering expert SEO services in the US and UK. We provide a comprehensive list of SEO services such as Reputation management, Adwords, etc. As a responsible SEO company, we help you to increase traffic to your website with our SEO experts to grow your business next level. We will Increase Organic visibility and Quality traffic to your website, thereby, drive more Qualified Visitors to your website with award-winning SEO Strategies.  Achieve top ranking in Google through our affordable SEO services, for more details talk to our experts today!
Related Resources:
5 SEO tips that can drive more traffic to your B2B website
What is SEO? How Does SEO Help Your Business Grow?
What Is SEO Marketing?How Does It Work? [SEO easy Guide for 2019]
What is local SEO and why do you need it?