Get B2B Leads for Education and Training industry
If you're a business in the education or training sector, then you already know the market is large and growing with many opportunities. The Bureau of Labor Statistics states that there are over 100k establishments in the private education service industry alone, not including government institutions. The online learning industry is exploding and companies like LinkedIn are taking advantage of the industry with its recent 1.5 billion acquisition. No matter what part of the industry you are from, there are businesses that require your products/services.
So how do you access these businesses and their decision makers?
Fuel your goals with Five Buttons's all-inclusive B2B lead generation or appointment setting services and get in touch with more education leads for your school, review center, training institute and more.
Five Buttons will either fill your calendar full of appointments with decision makers or provide you with customized lead generation campaigns to tap into your prospect clients. Our team of lead generation experts will strategically reach out to and qualify all potential clients in order to give you high-quality education and training leads/appointments.
You decide the type of business you want to deal with, their location and the job titles of decision makers you want to speak with. We are so sure about connecting you with your target market that we have a Five Buttons Guarantee in place to make sure you pay for exactly what you asked for or your money back!
Our proven lead generation services can meet the needs of education and training organizations such as:
Art and Design Schools
Language Centers
Sports and Recreation Instruction Centers
Business and Computer Schools
Review Centers
And many more! YOU specify the types of decision makers you need to connect with and we will book you appointments with them!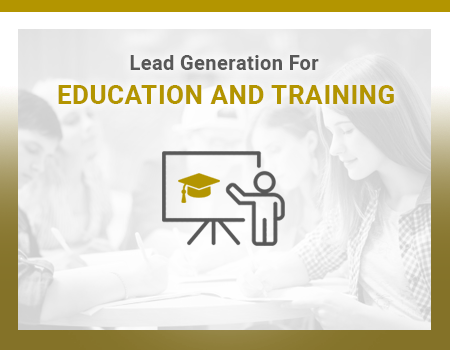 Scroll